"Backovers" are tragic auto accidents that happen when a child is accidentally rolled over in a driveway or parking lot. Though this may seem like a rare occurrence, at least fifty children in the U.S. are being backed over by vehicles EVERY week, according to Kidsandcars.org. It can happen to anybody, even those that try to take precautionary measures by purchasing a vehicle with a backup camera. The most common victims of "backovers" are one-year-olds and a parent or guardian is most often behind the wheel.
In the fall of 2014, a Utah couple was preparing for a trip to Disney with their five children when a last-minute errand resulted in tragedy.
Before leaving the house, the man asked his two-year-old daughter to go inside. While he and his wife watched the child ride her bike into the garage and go inside, neither noticed she had come back out moments later. As the man pulled out of the driveway, he checked his mirrors and back-up cameras, but never saw the little girl in the perfect blind spot. His wife tried to stop him the moment she heard her daughter, but it was too late. Today, the couple advocates for child safety through the "Spot the Tot" campaign.
In an effort to raise awareness about protecting kids in and around vehicles, Safe Kids created the "Spot The Tot" program.
This initiative teaches families about preventable injuries that occur in driveways and parking lots when drivers are unaware that children are near vehicles. It also provides tips on how to spot kids and avoid an unintentional "backover" incident.
Before getting behind the wheel
Many new cars are equipped with detection devices like backup cameras or warning sounds, but do not rely solely on these devices to detect what's behind your vehicle. Walk around the vehicle and make sure the area is clear before starting the car.
Have children in the area stand to the side of the driveway or sidewalk so you can see them as you are backing out of a driveway or parking space.
Reducing blind spots
Make sure the side- and rear-view mirrors are properly adjusted.
Adjust the driver's seat as needed to see clearly out the rear window.
If you have a backup camera, use it, but remember that even backup cameras have blind spots.
Before putting the vehicle in "Drive" or "Reverse"
Roll down the windows to listen for children around the car.
Eliminate distractions like conversations and listening to the radio. Put away the phone, as well.
Look behind you while backing up slowly in case a child dashes behind your vehicle unexpectedly.
Take extra care if you drive a large vehicle such as a van or SUV. These vehicles tend to have bigger blind spots.
Educate your children
Teach children not to play in or around cars.
Teach children to move away from a vehicle when a driver gets in it or if the car is started.
Teach your children to keep their toys and bikes out of the driveway.
Supervise children carefully when in and around vehicles.
Now that warmer weather is here and children are outside more often, remember to "Spot the Tot" to help keep all children safe and prevent future tragedies.
For more safety tips and information, visit KidsAndCars.org.
Mark Bello has practiced law for 40 years. He is currently the CEO and General Counsel of Lawsuit Financial Corporation, a pro-justice lawsuit funding company, and the author of the legal thriller "Betrayal of Faith" available on major online book store sites.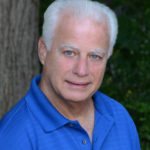 Experienced attorney, lawsuit funding expert, certified civil mediator, and award-winning author of the Zachary Blake Legal Thriller Series. The series features super-trial lawyer Zachary Blake handling "ripped from the headlines" legal and political issues of the day. The series currently consists of Betrayal of Faith, Betrayal of Justice, Betrayal in Blue, Betrayal in Black, and Betrayal High, with a sixth Zachary Blake novel due out later this year. To learn more about these topical social justice legal thrillers. please visit markmbello.com. Mark is a member of the State Bar of Michigan, a sustaining member of the Michigan Association for Justice, and a member of the American Association for Justice.